Go therefore and make disciples of all nations
Celebration has a passion for spreading the gospel locally and around the world- connect people to God and others. Below you will find basic information on upcoming National and International Mission Trips.

Celebration is also home to the Celebration Baptist Church Mission Training Center, opening October 6, 2019. We can't wait to share with you all the exciting things that will be coming from the MTC.
Serve the Kingdom on our upcoming mission trips.
There is a great need for a volunteer team to serve among the thousands of refugees that are on the border of Colombia and Venezuela. The team will assist in building and fixing up housing structures and storage systems for the Baptist House close to the border. Part of the team with medical volunteers and supplies are needed to serve alongside a doctor in the area that reaching out to the needy, and another part of the team will focus on training a dozen Venezuela workers that are coming out and need training in church planting and spiritual renewal.

Cost: $ 900.00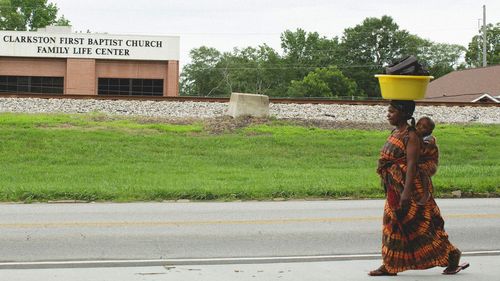 Clarkston, GA is one of the most diverse communities in America where almost 32% are foreign-born and 60 languages are spoken within a 1.5-mile radius. In Clarkston, there are great needs, but there are also great opportunities for churches and individuals to invest in the residents. For many, they left circumstances most of us could not imagine, yet they inherited a new situation most of us take for granted. It is in this transition that we have the greatest opportunity to meet their need, build relationships and begin gospel conversations.
Components of Send Relief Vision Tour:
Welcome
Send Relief & Ministry Center Overview
Driving/Walking tour of area
Conversations with local ministry practitioners
Immersive Experience
Church and community assessment
Defining Next Steps after Vision Tour
Engaging South Asian Lostness in NYC
Sending out large numbers of volunteers to strategic areas of the city to sift for Muslims, Hindus, and Sikhs who are being drawn to Christ by the Holy Spirit.
Tentative Schedule:
Days 1, 2, & 4, 5
10:00-12:00 Training
12:00-3:30 Rest/ Transportation to your Sifting site
3:30-9:30 Sifting (prayer walking, meeting people, sharing Christ with them).
Day 3
Free Day for sight-seeing or whatever you want to do.
Groups will be in the communities to meet, pray with people, share the gospel with people, etc. It is encouraged that groups also eat in the restaurants of the target populations.
For more information contact Pastor Brian Harper at bharper@icelebration.org or (850) 328-0041.